Great news for travel addicts who love shows like Game of Thrones. A company called Black Tomato is now offering vacation packages which will give customers the genuine experience of traveling to the exotic lands of their favorite shows.
The unique program, which Black Tomato calls "Set Jetting," will take you on a luxury vacation to the filming locations of shows including Westworld, Twin Peaks, The Crown, The Young Pope, and, of course, Game of Thrones.
As a traveler, you won't need to worry about a thing. Black Tomato plans out each and every itinerary ahead of time. All you'll need to do is pack your bags and prepare for the vacation of a lifetime where you'll see your favorite series come to life!
The Game of Thrones package, for example, brings vacationers on tours through the countries of Ireland and Iceland, where most of the show's filming took place.
"Your adventure gets underway in Belfast where, after a quick pit-stop at the Guinness Storehouse, you'll jump in the car and drive up to Belfast to find yourself in the heart of the North of the Seven Kingdoms," the website reads. "Embark on a cycling adventure through Strangford Lough, better known as Winterfell, and visit the Stark ancestral home to try your hand at archery with an expert guide."
In addition to the GoT package, Black Tomato also offers a Twin Peaks-themed trip, where visitors will see everything Washington state has to offer, a Westworld-themed tour, where travelers can explore the wilderness of the Moab desert in Utah, and a The Young Pope-inspired tour of Italy.
While Black Tomato will offer their expert advice and suggestions, every trip is completely customizable. These trips might not be the cheapest out there, with the standard GoT package costing about $9,700, but they will certainly leave customers satisfied.
The Untold Story Of The Real-Life Barbie
The toy company Mattel, Inc. is known to produce dolls with feminine figures, emphasizing their curves and setting what many view as unrealistic standards regarding the physical appearance of the ultimate woman. This is the story of the real-life Barbie: a woman who stopped at nothing look and feel like her infinite idol.
Stubborn Or Strong?
Valeria Lukyanova is a strong minded woman – one who will not let anything or anyone stand in the way of achieving her goals. But in Valeria's case, acting with caution would have been wiser.
Constantly On The Move
Born in Moldovian SSR in 1985, Valeria did not have an easy start at life. Living in a region that was formerly a part of the Soviet Union, Valeria was seeking some peace and quiet, which is why she decided to move to Odessa, Ukraine at the young age of 32. By the time 2014 rolled around, the war peaked between neighboring Russia and the Ukraine – and that was the straw that broke the camel's back. Valeria has had enough of the terror, packed up her things and moved to Mexico.
Just A Regular girl
When examining people who seemed to have slightly deviated from the norm, it is common to reference their past in search of whatever it was that caused them to be who they are today. But Valeria had a very average childhood in Russia – her father Valery was a builder, her mother Irina was employed by the army, both parents were always around to educate and spend time with their daughter. Considering everything seemed legit, something did not add up.
Looked Down At Her Family
Valeria was named after her father, Valery. In addition to being employed as a builder, Valery also worked part time as a DJ. Truthfully, Valery had a strong passion for music ever since he could remember himself, but gigs did not pay enough for him to financially support his entire family. Bills were mounting up, so Valeria's father started working as a builder. Because of this, Valeria swore to herself that she would never settle for being an average person with a boring job.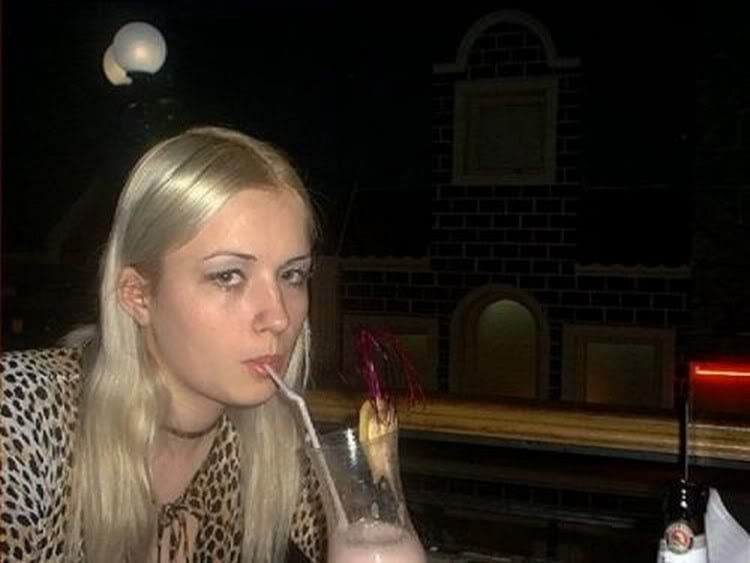 Obsession Starts
Turning to her dolls as a child, Valeria said on several occasions that she perceived them to be magical, the embodiment of female perfection. Whether she was happy or sad, she took comfort in known her dolls were always there for her. Consequently, Valeria started her doll collection. All of her Barbies had the same, flawless figures, although they did vary in hair color and clothing selection. Later, Valeria revealed having that collection definitely pushed her to aspire to be just like them.
Found Her Calling
Valeria's symmetrical face and delicate features made a fantastic canvas for what was about to become a tremendously successful modeling career. Her 5″7 slim figure made most designer clothes fit her body like a glove, and makeup artists praised her spotless skin. For a while, Valeria felt as though she found her true calling in life. Modeling enabled her to be in the spotlight, do something that she loved and be appreciated for having a beauty like no other woman.
It Bored Her
But soon, modeling became just another tick in Valeria's to do list. She was soon bored by it, feeling as though the challenge from before had evaporated into thin air. No longer was it a challenge for Valeria to become noticed – so she was seeking other ways to prove her worth. Then, Valeria reached the conclusion that she wanted to compete. 2007 was an exciting year, as she won the international Miss Diamond Crown of the World pageant, but there was more…
From Marilyn Manson To Marilyn Monroe
Long before her smile was adorned with pink lipstick and her hair was crowned with a sparkling tiara, Valeria was a whole other girl much different than the one featured in countless magazines. Indeed, by the time Valeria hit the 15-year-old mark, she spent a lot of time listening to hard rock music, picking out all-black ensembles and practicing witchcraft: "I remember, you were asking for my picture when I was 15," said Valeria in one interview, "I was a goth for a long time."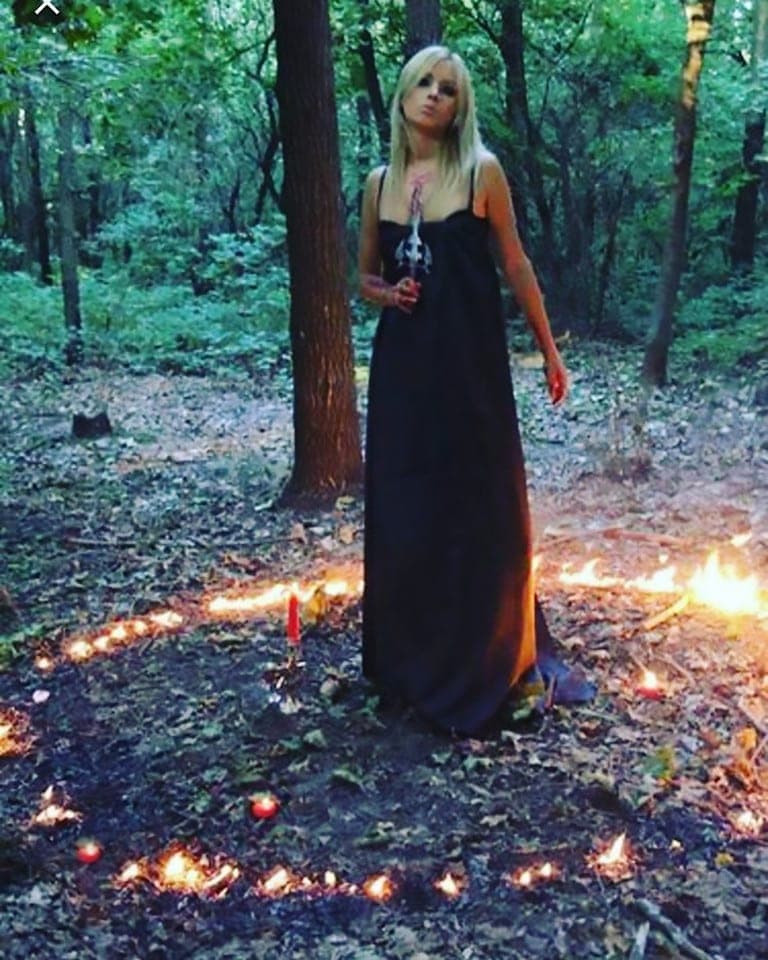 Keeping The Faith
Spirituality was a big thing for Valeria, whose faith might have raised several eyebrows in the past. Looking back, it seems this witchcraft business was her first attempt at taking things to their extreme version. Instead of becoming a strong Christain, wearing a chastity ring and attending church more frequently, Valeria went through a phase of severe gothic behavior, clothing and beliefs. And while this later changed significantly, Valeria still prides herself in keeping her faith and remaining very spiritual to this day.
Plastic Free?
Despite her ruler straight nose, perfect figure and a proportional overall look that would make any plastic surgeon beam with pride, Valeria insists she had no work done on her face and body – except for one tiny adjustment: having breast implants. A lot of people have a hard time believing Barbie girl received her name based on natural good looks, but Valeria insists this is true. She swore on several occasions that she believes her natural beauty made her the Barbie girl, and not a scalpel.
Hours Of Prepping
The assumption Valeria is lying is baseless, considering no proof was uncovered that would suggest that she had gone under the knife to make her face and body more compatible with the Barbie doll's. Every single day of her life, Valeria claims to spend about an hour and a half applying her makeup and doing her hair. That might seem like a significant amount of time, but that is what Valeria goes through to assure her doll face remains as such.
Likes To Keep People Guessing
When asked about her beauty routine, Valeria explained she likes to diversify every one in a while: "Sometimes I can have very bright makeup for weeks, and then decide against it completely for a while even though my eyes look twice as small this way." To flaunt her big eyes and achieve her desired look, Valeria invests in planning out her entire outfit and overall look ahead of time. The color scheme changes according to her mood, as do her contact lenses and shading techniques.
Eating Is Prohibited
As for her petite physique, Valeria proudly elaborated about being a Breatharian – meaning she simply does not eat or drink. Breatharians insist food and water are unnecessary for survival since humans can exist solely by prana, which is the vital life force in Hinduism. Valeria added that at first, she was not hungry at all and that she hoped lacking an appetite was the final stage before completely subsisting on air and light alone. This might seem like an unhealthy choice, but it seemed to work for her.
Special Name For A Special Girl
Her looks are surely unique, but her fan base decided voluptuous Valeria's stage name needed personification. Yes, she looked like a Barbie, but there was more to her than a fit figure, big blue eyes and bright blonde hair. In fact, plenty of girls in Russia could be described exactly like that. Therefore, Valeria was retitled as the Odessa Barbie, a name she carried proudly as a reminder of her hometown and where she came from, despite currently living in Playa del Carmen.
Called Her A Liar
As soon as Valeria's name started making headlines, she was named a liar for not owning up to her plastic surgeries. Frustrated, she was quoted referencing the subject: "I've only done my breasts and have always been skinny. The only difference is that now I am more fit. That's the only difference. In the future, if I require it for my body, then of course. I am not against surgery, but for now, there is nothing I need to do."
Mentally Ill
Tackled with claims about her thin figure and possible accusations of being mentally ill to the extent of forcing herself not to eat, Valeria explained her lean body is the outcome of a healthy way of living, not the other way around. Yes, she has a strict diet and aspired to be a breatharian, but she also makes sure physical exercise is always a part of her routine. Still, it is important to keep in mind that Valeria did have some plastic surgery.
Millions Of Admirers
With almost 1.2 million people following her every move on her social media page on Facebook, Valeria made sure to gain more fans by opening an Instagram account, which already has nearly 500,000 followers. The reason behind both accounts is that social media provides Valeria with the easiest and widest platform to communicate with the individuals who wish to stay updated about her life. Both accounts present pictures of Valeria in different locations, flaunting her figure or batting her curled eyelashes at the camera.
What Can't She Do?
Besides her good looks, Valeria is also a very capable singer. Her unique voice fitted the New Age opera genre perfectly, a world Valeria was glad to discover. Valeria recorded two albums in the past in which she not only sang, but also fully composed the music. These albums were titled Sun In The Eyes and 2013. However, Valeria made sure her modeling career was not associated with these albums, and she did so by going under a different stage name whenever performing or releasing new music – Astral.
He Discovered The Truth
A documentary about Valeria was done by VICE back in 2013, and director Will Fairman was quoted saying: "I'd seen her like everyone else when she popped up on the internet with all those bewildering and bizarre images and videos, and thought there had to be something more behind it all, because I could see little flecks of esoteric stuff. I followed it up and discovered she was a new age opera composer and gave seminars on spirituality, so she obviously had a few more strings to her bow than just being a tumblr girl."
A Lot Of Question Marks
What shocked director Fairman most about Valeria is that her whole look and behavior was not an act, she truly believed she was inhuman. In fact, she was so convinced everyone had her all wrong, she refused to get paid for performances, appearances or social media: "She genuinely believes she's from another planet. 100 per cent. She's not making any money from her life – not even from the seminars she gives – which is originally why I thought she was doing this."
Energy Vampire
As for Valeria, she was quoted expressing how she felt about the industry and her portrayal in the media: "I come from a place where only love and joy exist, but I noticed the media is only interested in negativity […] There are hate blogs and communities about me who post bad pictures about me and try and worsen my mood. Perhaps at some point I was an energy vampire, because I constantly received their negative reactions and enjoyed it. Specifically for them I created posts that would make them angry."
Seen Her At Her Worst
There is a lid for every pot, and it seems Valeria has found hers. What she admires most about her husband is how he sees her for who she really is. Even when she is makeup-free and hair a mess, Valeria knows Dmitry will always be by her side. Additionally, she loves his kind and adventurous soul: "He became a strict vegetarian even earlier than I did. He is fond of mountains – he conquered Mount Elbrus. We were on Everest, went to Nepal and the Himalayan mountain range."
Unconventional Relationship
Valeria might be beautiful on the outside and inside, but there is one thing about her a lot of men would not be able to tolerate – the fact that she is not interested in having children: "I don't feel the desire and the capacity to be a mother." She said in an interview. "I'm from another universe. There, everyone is asexual – in our dimension, there's no such thing as children." As long as Dmitry is okay with that call, who are we to judge?
Like Mother Like Daughter
Irina, Valeria's mother, openly stated she supports her daughter's life decisions and stands behind the notion Valeria might be from a different planet. The two have a striking resemblance, which is even more evident whenever Valeria does her mother's makeup. Highlighting to make her eyes pop and nose straight as a ruler, Valeria makes sure to emphasize her mother's best features. The two are so close they were mistaken for siblings several times, as Valeria admitted on one occasion.
It's All Relative
Valeria also credits her thin body to her mother, who apparently passed on the enviable genes: "My mother's waist is as narrow as mine – I inherited that from her," Valeria said. Indeed her petite figure could be due to her inherited bone structure, but one should not forget Valeria is also a firm believer of abstaining from food and drinks out of religious reasons, which is most probably a major contributing factor. Additionally, Valeria is known to be taller than her mother, which could explain her lean body too.
Barbie and Ken
Ken and Barbie's first meeting probably did not go as he expected. Justin Jedlica, better known as Barbie's Ken, came into the public consciousness on the E! show Botched. Doctors memorably refused to perform surgery on him because he had already had too much. At first, she hated him. When Valeria was asked about meeting him, she vainly said, "He overdid his lips." She then observed how Barbie and Ken had been taught to be "the epitome of what is beautiful."
Dolls
Valeria stated her views on life, "Many people think you need only good looks to be successful but that's not true – only spiritual work can bring tangible results." She thinks of her self as very spiritual to the point that she is not from our planet and believes herself to be on another spiritual level. This would be easier to believe if she had not had such an obsession with dolls as a kid, surrounding herself with them whenever possible.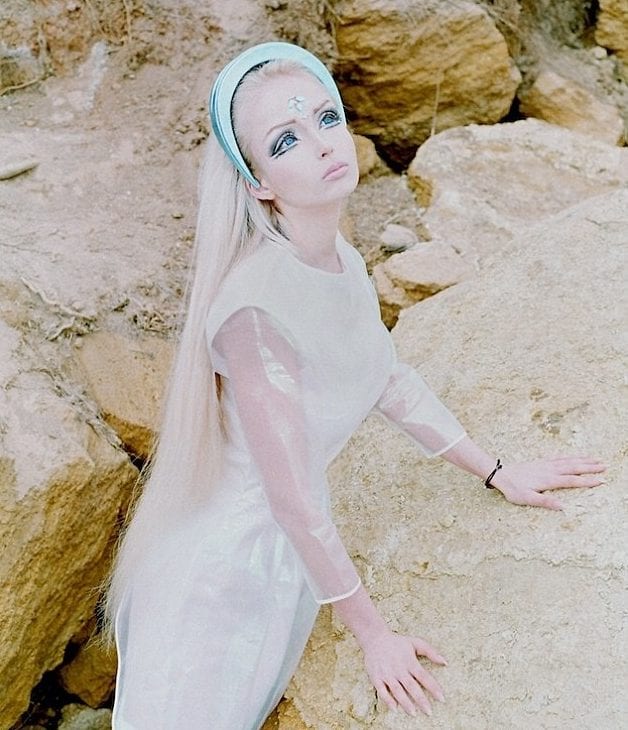 Alien Connection
In an interview, Valeria highlighted how she is different than most people. "My out-of-body experiences began when I was a little girl: I could travel outside of my body to other planets and universes," she said. If that was not enough, Valeria continued to describe how she speaks with aliens "all the time." It is nice to know that she has a community of extra-terrestrial beings looking after her. Perhaps one day she can physically travel to her alien pals.
Net Worth
Call it noble or call it stupid but the one thing that Valeria has stayed away from is endorsements. It is a commonplace for celebrities to have different companies send them products to try and post on social media. Valeria has stated that she does not look to make money off of her social media accounts, so she does not accept these offers. Because she does not make money off her looks, it is not possible to identify exactly what her net worth is.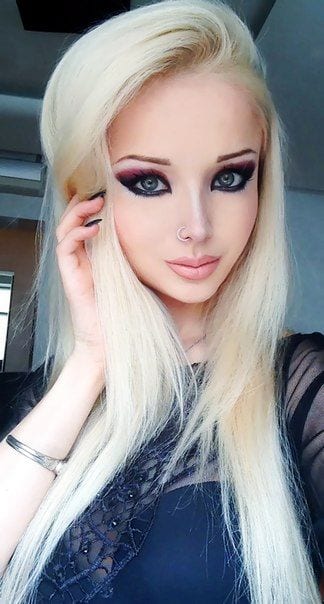 Skin Regimen
If you looked at a picture of Valeria, you would assume that she has had work done on her face. She claims that her face has never actually been touched. The appearance of her face comes solely from rigorous makeup application. Many wonder what she does to get her skin looking the way it does. She says that she puts on a face mask from time to time to help rejuvenate her skin and she credits a good diet to keep her skin naturally healthy.
Normal Upbringing Leads To Extraordinary Desires
Valeria's upbringing was pretty regular. Her parents had no obsession with appearance and lived normal lives. Her father worked in the construction industry. Her mom lived a reasonably secretive life working in the military. She was unable to tell many details of her day with her family. Many have conjectured that Valeria's boring life growing up led to an adult life obsessed with being different. If her goal was to break away from the norm, mission accomplished.
Dislike For Unattractive People
It is no secret that Valeria prides herself on perfecting her external beauty. What might be a little shocking is that Valeria has gone on the record calling unattractive people "ugly on the inside." It is possible that she is not blanketly referring to "ugly" people, but rather those who shame and attack her for her pursuit of perfection and the excessive work she has done to get there. With so much hatred spewed towards her, she has seen an ugliness inside people.
Dislike For Unattractive People Part 2
In one interview, Valeria shared her thoughts on ugly people with more depth. She said, "Let's take Sarah Jessica Parker. To be fair, she has a horse face, but she looks fine. Some girls simply think that nothing can help them when all they do is lie on a couch eating pastry." Her harsh words did not go over well with the public but give more insight into her. We can at least give her credit for speaking her mind.
Bodybuilder
Valeria has actually started to move away from her initial body type. At first, she focused on being rail thin. Now she is working on adding muscle and looking stronger. Her routine includes a daily trip to the gym. She works out every muscle that she can hoping to add tone to her already thin figure. In a social media post, she said, "I no longer like my body. It needs some muscle." This Barbie will look different from the one that first hit the shelves.
Working On Her Physical Features
Valeria has changed her tune in interviews when speaking about her body. In Russia she said, " "It is a pity that most people choose the path of degradation. I am certainly still far from ideal, very far. But I strive for athleticism…. so funny that girls and boys from sporting groups write such nasty things about my body… so much negativity," It is nice to see that she has some self-awareness in her 'struggle' for perfection.
Attacked
In an interview with the Mail in 2014, Valeria detailed an instance where she was attacked. She told them, "I came back home from a shop with bags and entered the door code when two men rushed from the dark and attacked me. It happened in a flash; they hit me on the head, several times on my jaw, then one of them began strangling me." Due to the bandages in her photo, rumors swirled that she was not attacked but had gone through plastic surgery.
Two Instagrams
With fans spanning across the globe, Valeria Lukyanova makes sure that all of the fans can follow her through social media. On Instagram, she holds two accounts to which she posts frequently. For her fans at home that can only read Cyrillic letters, she has an account in Ukrainian (she is from Ukraine). Her other account is in English so the rest of her fans can keep up with her daily happenings and newest photos. She maintains both accounts like her primary account.
Interracial Marriages Cause Plastic Surgery
Valeria explained in a GQ interview why she believes plastic surgery is so prevalent today. The majority of feelings come from a background in the USSR. In the Soviet Union in the 50s and 60s, intermarriage between cultures and races was uncommon. As it became more common, children of intermarried children tried to fix any imperfections. She gave an example of a Russian-Armenian girl having beautiful Russian features and a big Armenian nose and wanting a smaller nose.
Barbie Friends
Valeria might look like Barbie, but she is not the first to attempt to become the famous doll. The first woman to try to look like the classic toy is Sarah Burge. Burge, a British woman, has made the rounds in the British tabloids for her excessive plastic surgeries. She has had over 100. Also, she encourages her daughters to do the same. She hands them coupons for botox or implants for which they can redeem as they get older.
Is This Barbie's Bestie?
Valeria's friends are quite supportive of her lifestyle. In fact, one of her friends seems to be of the same mindset as Valeria. Olga Oleynik, better known as Dominika, is generally seen with Valeria and looks the part of her doll companion. She has not had nearly as many surgeries as Valeria but maintains a similar lifestyle and appreciation for going under the knife. She looks less like a Barbie and more like a California girl with a lot of work done.
A Growing Trend
Women around the world appear to love dressing up as and becoming full-size Barbies. Many women have attempted to copy Barbie's big eyes, small waist, and large chest. While women have been attempting to become Barbie since Sarah Burge, a new trend has begun with men. Men are now lining up to become Ken doll look-a-likes. Similar to the Barbie women, they go through numerous plastic surgeries looking to become carbon copies of Barbie's famous beau.
Slow Motion Car Crash
One of Valeria's Instagram followers tried to put how he/she felt about Barbie look-a-likes into words in the comments of her photo. Instagram user str4wb_cupk4te wrote, "It's like when you see a wolf-man or a person with five heads…You don't want to look but you can't help yourself because it's so out-of-the-ordinary." It's a sad statement to make but hits the nail directly on the head. How can we ignore such an unfamiliar sight?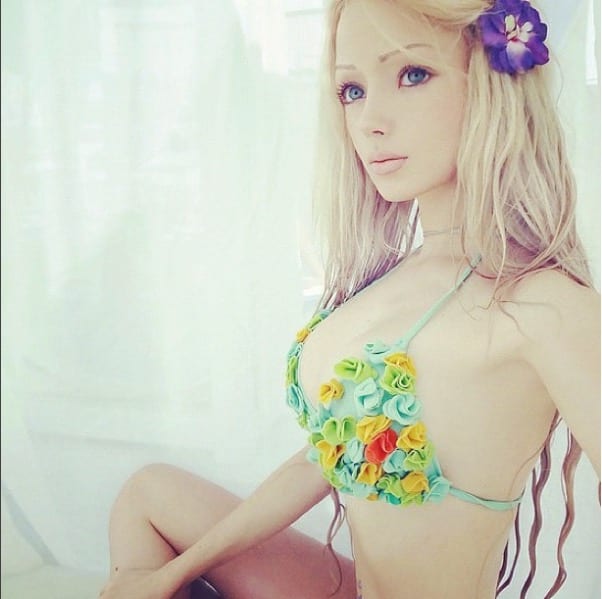 Ditching Breatharianism?
In the past, Valeria claimed to practice breatharianism. Those days seem to be over as she drinks a large shake in the photo below. Breatharianism teaches that human beings do not need food (and sometimes water) to survive. This practice is highly dangerous according to doctors as people need sustenance for energy. In some cases, people starve or die of dehydration. Hopefully, Valeria learned to move away from this practice due to its health risks and eats regular meals.
Getting Ripped
If you look through Valeria's recent Instagram photos, you might not recognize her in relation to her older photos. She seems to have moved away from the complete Barbie look. Now she has built a noticeable amount muscle (which is probably helped by eating protein). Valeria still has her large chest and tiny waist, but has filled herself out in a way that appears more healthy and less plastic doll-like. In her recent posts, she has not been shy about showing off her ripped physique.
More Beautiful Without Makeup
Occasionally, Valeria takes a break from Barbie look and tries to go more natural. Every time she does, her social media fans go crazy. The picture below received over 9,000 likes for her toned down Barbie-ness. Unlike her made up everyday appearance, Valeria's toned down look is gentle and allows her to show emotion. Granted, it still seems like she is wearing plenty of makeup, but it is certainly an improvement from her go to plastic look.
Early Photo
Without her all of her makeup and plastic surgeries, Valeria was unsurprisingly pretty. We dug up an early photo of her to give a look into her former appearance. The photo below was posted to her Instagram account in 2012. Her eyes are beautifully big and blue, not comically big. She might have started going through her transformation by now, but has retained enough of her original looks. If people think she looks good without makeup now, imagine what they would have said then.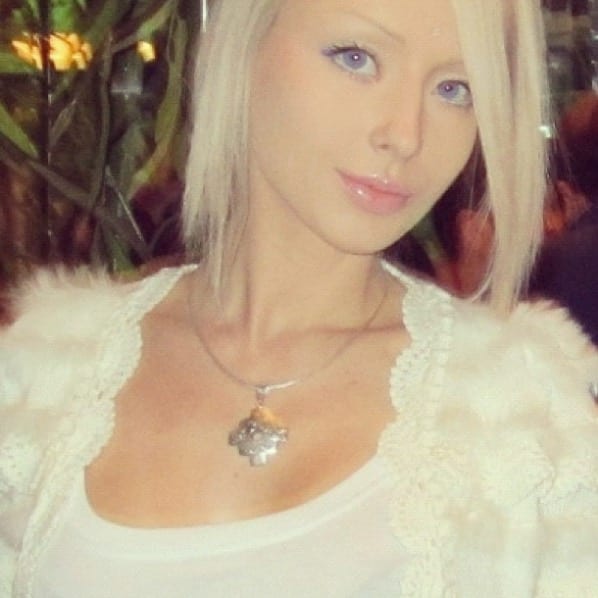 Makeup-free Barbie
Here is an excellent example of Valeria without makeup. Her face looks softer and more real. Even with her love of makeup, Valeria has made statements about not wearing makeup. "I truly don't understand people who are ashamed to be without any makeup on. And there are quite a lot of people who can't accept themselves this way. It is so shocking." An interesting thing for someone that dresses up like a Barbie to say about wearing makeup.